massage course
Small classes.
Professional, individual, flexible.
massage training one to one
Professional Bali Massage Course
Flexible • Individual • Small Classes
Efficient, short massage courses for beginners and professionals.
Enjoy competent hands-on massage training, and get instructed by real practitioners!
You get practical lessons in Balinese spa techniques in individual massage training at our original spa premises with authentic materials and equipment. We focus on learning by doing, but we also hand out a step-by-step script of Balinese massage, hot stone massage, Balinese facial, hair cream bath, and other subjects (in English).
Our students are professional spa therapists, masseurs and masseuses, beauticians, physiotherapists, nurses, midwives, and ambitious amateurs, they come from all over the world to enjoy qualified hands-on training at our place.
We have taught more than 1000 spa professionals from all over the world how to give massages and how to apply local spa techniques correctly. In 2012 our spa school partnered with Ryubi International Beauty College in Okinawa/Japan. Today we play a significant role in setting the standards for Balinese spa procedures. Read our story here.
So, learn from Balinese spa professionals how to do
–
Balinese Body Massage

Body Lulur (traditional soft exfoliation)
requires training in Balinese Body Massage first

Balinese Boreh (warm healing pack)
requires training in Balinese Body Massage first

Balinese Traditional Facial

Stone Facial

Balinese Traditional Hair Cream Bath

Warm Stone Massage
requires training in Balinese Body Massage first

Face Massage

Foot Massage

Head, Neck and Shoulder Massage

Body Wraps (seaweed, aloe vera, chocolate, strawberry)
requires training in Balinese Body Massage first

Body Masks (honey milk, aloe vera, wild yam)
requires training in Balinese Body Massage first
Ayurvedic Training Package
3 days / US$450
Shirodhara

Indian Head Massage

Abhyanga Massage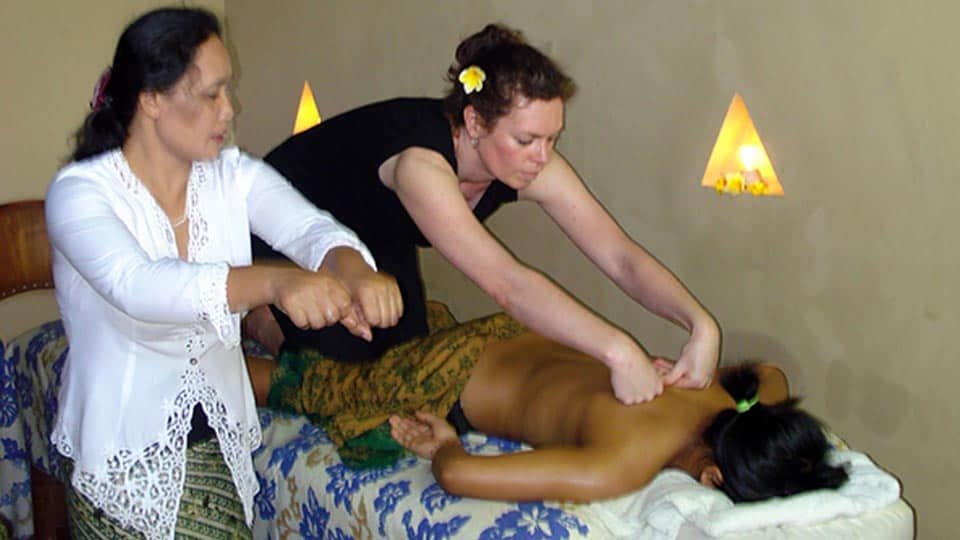 education in spa techniques
massage course for small groups
Students of Ryubi beauty school

Your teacher is an experienced senior instructor of our spa and also Ibu Indri will look after you. Ibu Indri is the Balinese owner and operational director of Sekar Jagat Spa, and she trains and supervises all our therapists. At our place, you will receive firsthand knowledge in Balinese spa treatments. We have some of the best Balinese spa therapists on this island, and some of them work today in five-star hotels and overseas. You can rest assured that you get a competent guru. Ibu Indri also graduated with an international spa diploma from CIBTAC (Confederation of International Beauty Therapy and Cosmetology) London in the subject of anatomy, physiology, body massage and spa therapy.
The course is held in basic English language, respectively for locals in Indonesian language. One session is 4 hours of intensive training (10:00-15:00) plus a one-hour lunch break on-site. You are free to book just one or a few sessions. We offer courses with a duration from just one day to up to 9 days. The subjects of the course are up to you, in consultation with us.
The cost for one session (4hrs of intensive training) is US$150 per person, inclusive of taxes, all materials, a live model, lunch and an awarded certificate that testifies your successful participation. The awarded certificate is not a diploma, of course, for a diploma you would have to study 100 – 400 hours (depending on your subjects) and pass an examination.
For two sessions we charge US$275 and for three sessions US$375. Each additional session costs US$125. No extra or hidden costs.
We also provide free transportation from and to your place in Jimbaran, Nusa Dua, Kuta, Legian, Pecatu, Ungasan, Seminyak and Sanur.
If you are already experienced in massage treatment, two sessions of training in Balinese massage and one session of training for each other subject might be enough to learn the basics. If you have no experience in massages but are talented, you should consider a minimum of two or three sessions for Balinese massage and one or two sessions for each other subject.
Because we are flexible and do not gather our applicants you enjoy training in very small classes, not more than three people, in fact, we usually run the course just with one or two people. If you want to book in a group we will provide additional teachers for you to keep the classes small.
The dates and subjects are up to you, provided availability, first-come-first-served. To make an appointment kindly consult us, please use the enquiry form below or send us an email. Let us know your professional background/massage experience, what subjects you are interested in and what date you prefer. You will get competent training tailored to your needs.
---
Expert Bali Massage Courses @ Sekar Jagat Spa Bali