+++ Not a Place for the Crowds +++
+++ No Mass Processing in our Spa +++
Top Treatments
Body Lulur Scrub 2hrs/US$60 nett
Bali Massage 2hrs/US$45 nett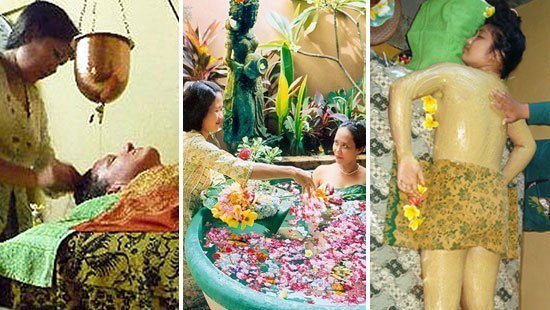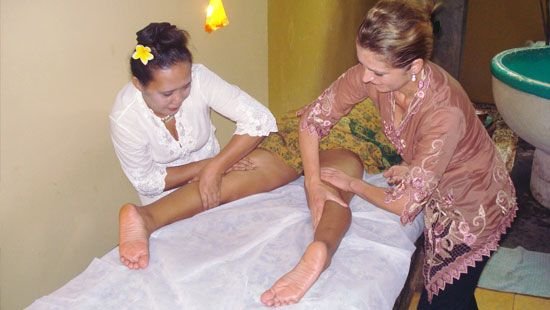 For professionals and ambitious amateurs
Hands-on massage training in small classes
Hotel transfers, hotel change
Airport drop-off
Benoa Port transfers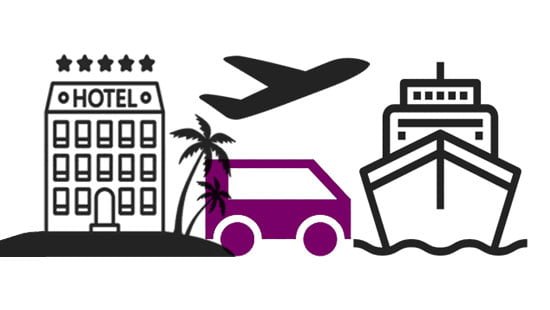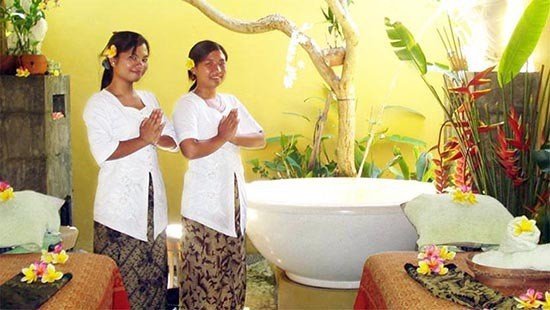 Packages from 4hrs/US$97.50/person
with beachfront dinner at Jimbaran Bay
Honeymoon Packages
Book online, call us or WhatsApp/LINE
No deposit required, no cancellation fee
Pay upon arrival, cash or by Master/VisaCard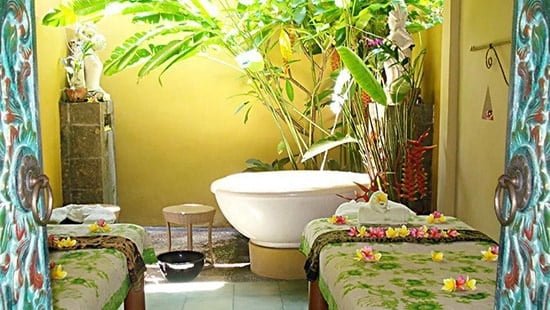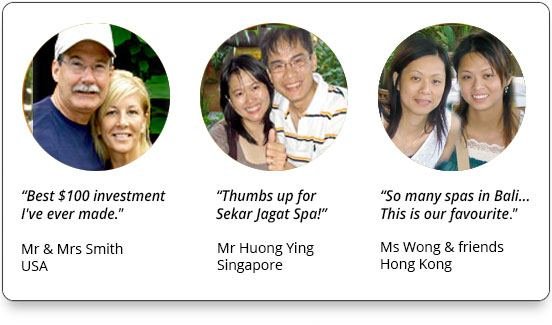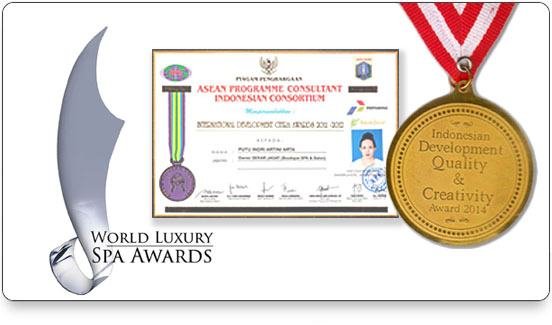 50,000+ happy customers
Endorsement worldwide
80% of our business is from referral and returning clients
20+ years of experience
Sekar Jagat Spa Nusa Dua recommended by
+++ Not a Place for the Crowds +++
+++ No Mass Processing in our Spa +++
Top Treatments
Body Lulur Scrub 2hrs/US$60 nett
Packages from 4hrs/US$97.50/person
with beachfront dinner at Jimbaran Bay
Honeymoon Packages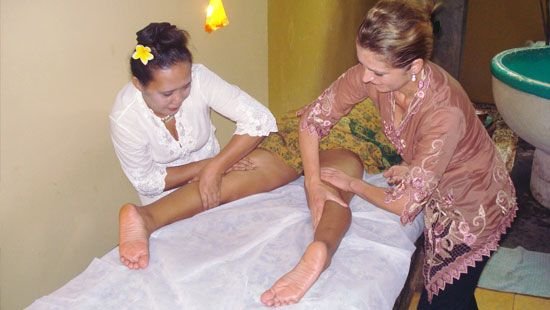 Massage Courses
For professionals and amateurs
Hands-on training in small classes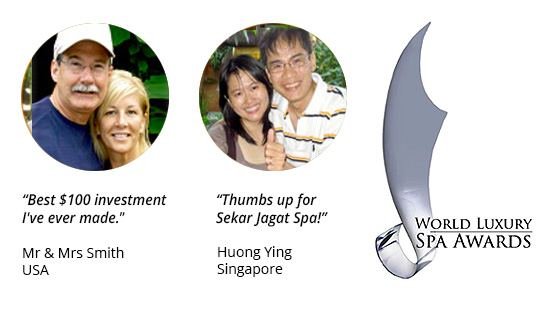 Awards & Testimonials
50,000+ happy customers
Endorsement worldwide
80% of our business is from referral
and returning clients
20+ years of experience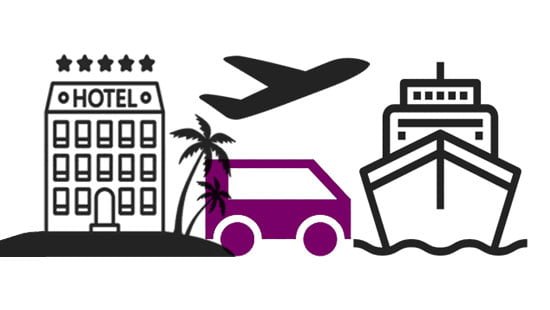 Free Transfers
Hotel transfers, hotel change
Airport drop-off
Benoa Port transfers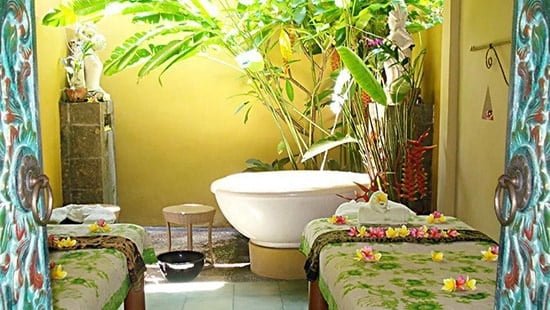 Easy Booking
Book online, WA or call us
No deposit required, no cancellation fee
Pay upon arrival, cash or by Master/VisaCard
About Us | Sekar Jagat Spa Bali

Sekar Jagat is polite Balinese language meaning flowers of the earth.
We are a family-run local day spa in Bali, owned and directed by Balinese Spa pioneer Ibu Indri. We are not in the mass market but about providing a service for people who care. Thanks to our loyal customers and committed staff, we have established Spa Sekar Jagat as a brand among thousands of spas and massage places in Bali. 
Back in the late nineties, well before the spa boom, a time when simple massage salons on Bali still were named massage salons (not "spa") and when 5-star hotels just started to add a spa to their facilities (resulting in "resort and spa"). Ibu Indri studied Indonesian spa and massage history and founded in the year 2001 Sekar Jagat Spa, focusing on proper Balinese spa procedures. From now on, Sekar Jagat Spa in Nusa Dua was one of the very few companies spearheading the development of authentic Balinese Spa on Bali island.
In 2005 we founded our Balinese Spa Course in which we have taught until today more than 1000 spa professionals from all over the world in individual one-to-one training on how to give massages and apply local spa techniques correctly. Today we play a significant role in setting the standards for Balinese Spa.
Designed in classic Balinese style and charmingly spreading local flavours, we believe our spa is the perfect place to enjoy authentic Balinese massage and delightful spa treatments. You can expect a pleasant natural ambience and skilful therapists using fresh material. We train and continuously develop our therapists on-site, supervised by Ibu Indri. We try to keep in touch with our valued customers and take constructive suggestions very seriously.
Our guests
Our guests are connoisseurs, spa professionals, occasional spa-goers, couples/honeymooners, single travellers and sometimes small groups, coming from all over the world and all ways of life. Many are returning customers and regulars, the majority know us from the Internet or good books, and many come by recommendation of their friends or colleagues. By the way, those who follow touts will end up at other places 😉
Private semi-outdoor and air-con facilities
Nine private and spacious semi-roofed treatment rooms for singles and couples, equipped with open-air baths, hot and cold water facilities and a beautiful small garden provide the perfect surrounding for relaxation and rejuvenation. Plus seven comfortable multifunction places for hair spa, facial and manicure/pedicure in our salon. Three air-conditioned treatment rooms for single and couple occupancy in our newest spa building. Also available are two family rooms for three guests together.
Great treatments with fine products
Enjoy superior spa and massages based on traditional Indonesian techniques and recipes using fresh leaves, herbs and plants, fragrant blossoms and essences. A fully trained staff and a pleasant atmosphere ensure an excellent time at our spa. The massage oil used is of excellent quality as are all our products. Most of the materials we use (massage oils, lulur, boreh, cream bath, facials, masks and wraps) are of our own production and always of excellent quality.
Perfect spa day for two
Bali massage, Lulur scrub, Blossom bath, Facial or Back-shoulder massage, Hair spa or Facial or Foot massage
Beachfront dinner
4hrs + meal / US$250
Internet Rate: 4hrs + meal / US$195 (US$97.50 per person)